Pigs - Pork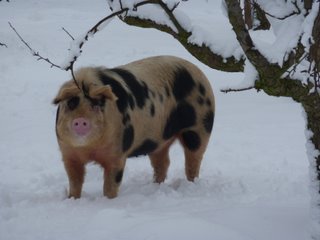 We produce pork that is for sale direct to the consumer. Our pigs are bred on the farm. They live outdoors in an orchard where they enjoy rooting up the soil and eating the windfall pears. We have two breeding sows (named Crackling and Daisy) and a boar (called Baldrick) . Their offspring are also kept outdoors in the orchard and as they grow they are divided into groups depending on there sex..for obvious reasons!!
Our pigs eat pig feed pellets, what ever they find when rooting up the soil and pears that fall from the trees - although we have seen Crackling picking the pears straight of the tree herself!!
Due to the fact that our pigs live outdoors there growth rate is somewhat slower than commercially produced indoor pigs, this also means that pigs have longer to mature and we think means that the pork has a much more delicious flavour.
When the pigs reach around 70kg they are taken to our local abbatoir where they are processed, the pork packed labelled and the sausages are made. We then ring you when your pork is ready for collection.
If you have any questions or would like to make an order please ring Richard on
01622 831598 or email horlandsfarm@gmail.com